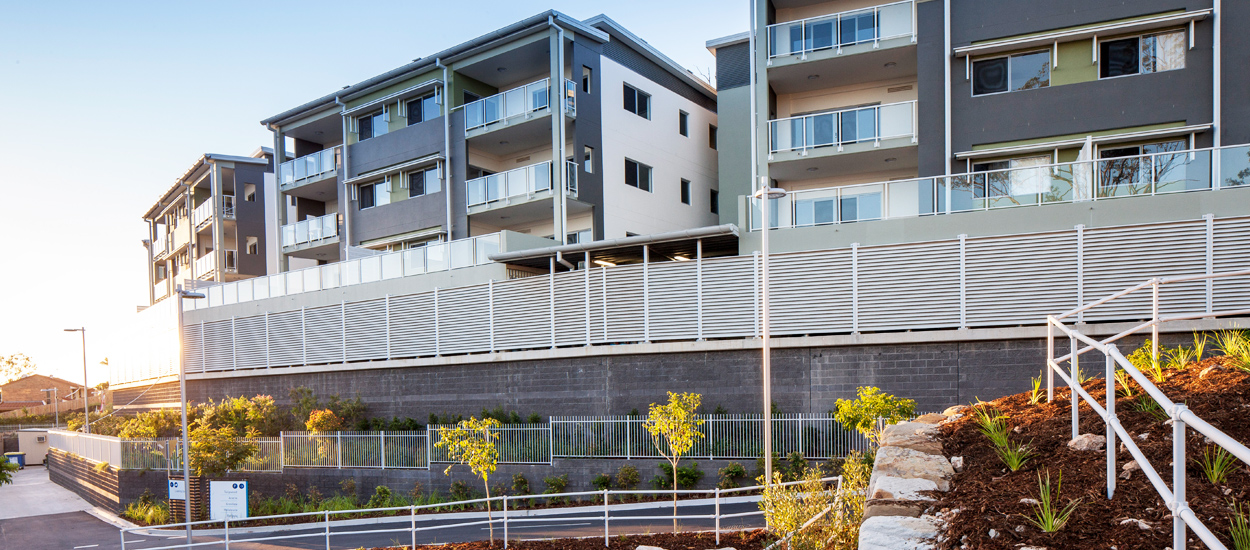 Azure Blue
Objective
Azure Blue Integrated Living is a retirement, community and residential aged care project, located on a 4 hectare Greenfield site at Carina in Brisbane. Cockram's aim was to create a modern care precinct and a luxury retirement living precinct where residents' amenities include a swimming pool, café, library, function room, car parking and media room.
The $60M+ project consists of a 128 bed High Care aged care facility and 98 Independent Living Units (ILUs) comprising 22 apartments, 70 Units and six single storey villas (duplexes).
Being on a high traffic thoroughfare (Richmond Road), they required an architectural boundary fencing which aesthetically provided both privacy and security for the residents of Azure Blue.
Solution
Oxworks' Aluminium Tubular fencing (Picket Style) was used to secure all gardens and utility entrances while still accommodating the overall design of the project.
Oxworks' custom face welded Aluminium Angle Screens were used to provide an impressive façade to the entire 4 hectare property and provide privacy and security to the residents.
Testimonial
"We chose Fencebuild to install their custom angle screens for their aesthetic appeal and strong, long lasting finish. With safety at the fore front of our design both their Custom Screens and Aluminium Garden fencing (which exceeded Pool Fencing standards) tied in very well with the colours and modern styling of the build. The quality of their manufacturing and powder coating is second to none and they were extremely professional to work with on site. This ensured we had no troubles with their systems and processes and would recommend them to deliver quality workmanship."
– Frank Didovich, Cockram Project Manager for Azure Blue Project.