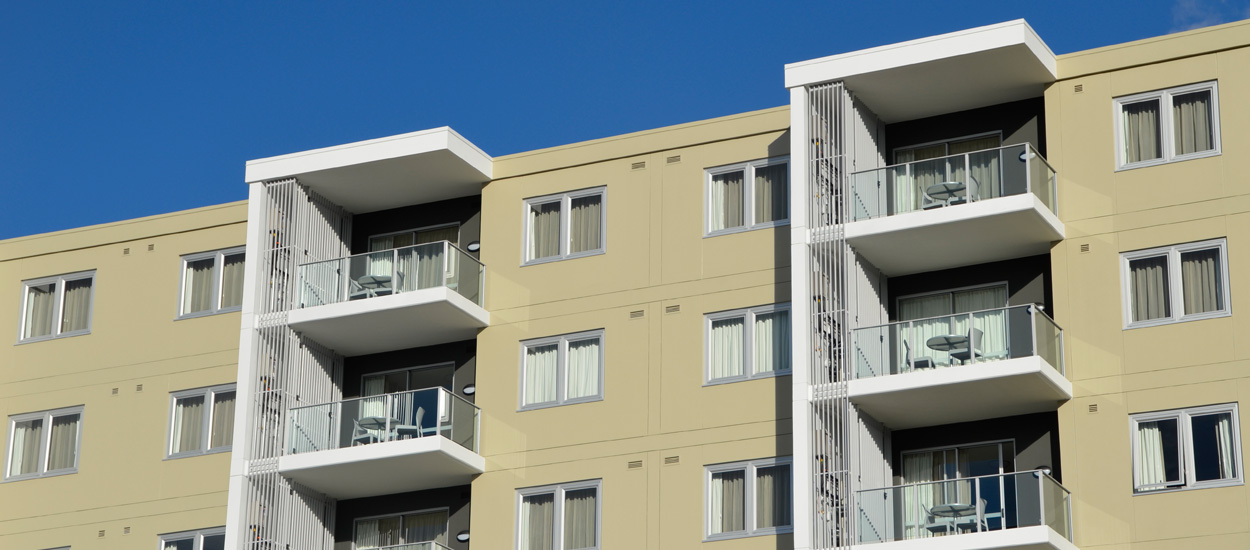 Quest Apartments 
Objective
FKG have designed a landmark development in the heart of the Toowoomba CBD. The 74-room hotel complex, spanning eight levels comprises studio, one bedroom, two bedroom and three bedroom apartments. FKG have blended old and new, restoring the century-old former Church of Christ at the front of the complex and turning it into a lobby for the towering development.
The design teams have integrated modern touches such as Aluminium Slat Privacy Screens and Semi-Frameless Glass Balustrade into their designs to create one of Toowoomba's most iconic buildings.
Solution
Fencebuild Australia in conjunction with the manufacturing expertise of Oxworks were contracted to bring these design ideas to fruition.
Using Oxworks' balustrade specifications, Semi-Frameless Glass Balustrade was used to secure all balconies and offer uninterrupted views across Queens Park and its surrounds.
Combining modern style with functionality, face welded radiator style Aluminium Slat Screens were also integrated onto each balcony to screen the hot water units and air conditioners and installed by Fencebuild in accordance with the architects specifications.
Oxworks' specification Aluminium Slat Privacy screens were used to screen off the refuse and bin storage areas.
Carpark safety and security was addressed using Custom Oxworks Hercules security fencing to secure the underground carpark.
Testimonial
"Fencebuild supplied and fitted around $250,000 worth of glass balustrade and metal screens to our project. They were one of the best trades to deal with on site and I am very happy with the professionalism, quality of material and timely performance of their works. I will definitely use Fencebuild again on my major works and would recommend them to anyone."
– Mick Harwood, FKG Project Manager for Quest Apartments Project.